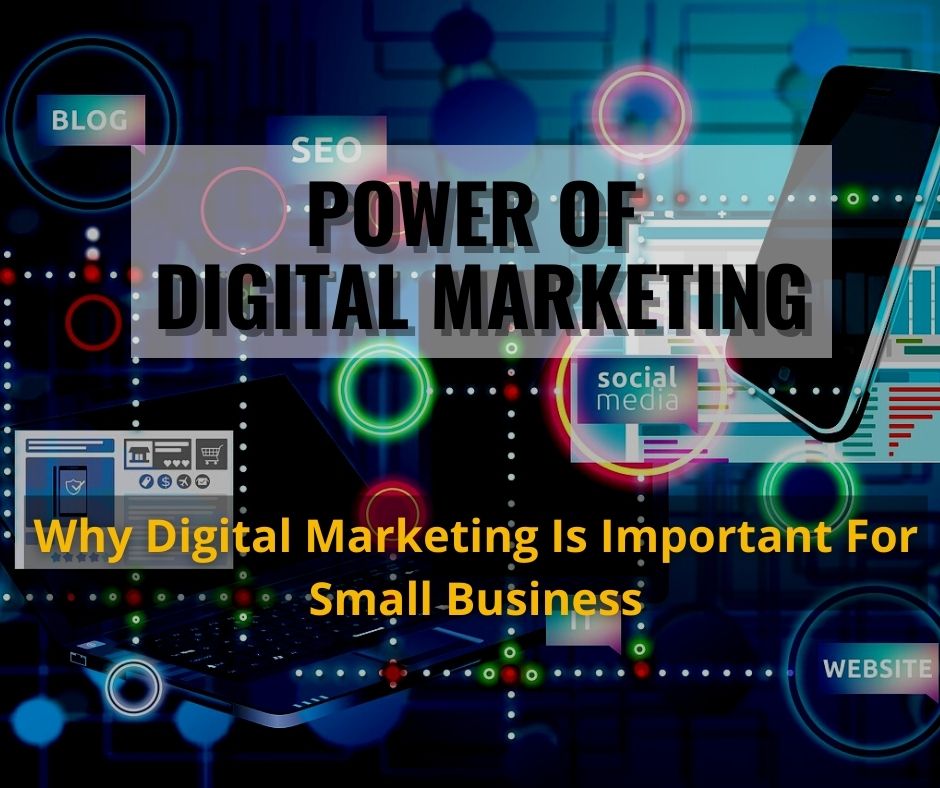 Power Of Digital Marketing
Why Is Digital Marketing Powerful For Small Business
Digital marketing is a powerful channel to promote and grow business online. Businesses, be it large businesses or small business, cannot afford to avoid leveraging the advantage of powerful marketing strategies and digital technologies, which is cost-effective with enhanced customer satisfaction and increased global reach. Digital marketing leverages precise audience targeting and data analytics, which offers a much more powerful approach towards promoting and growing businesses. Grow Your Business Online With The Power Of Digital Marketing. 
What is digital marketing?
Digital marketing leverages on digital media and digital technologies to achieve marketing objectives aimed at greater business growth and revenue.
Different types of digital marketing can be used to build a highly efficient and powerful digital marketing strategy.
Web Development & Web design
Search Engine Marketing-SEM
Search Engine Optimization-SEM
Pay-per-click – PPC ( Google, Facebook)
Social Media Marketing-SMM
Content Marketing
Email Marketing
Influencer Marketing
Affiliate Marketing ( Amazon business, Google Business)
Viral Marketing
Mobile Marketing
Why Digital Marketing?
1. Cost-Effective
Digital marketing is less expensive compared to other traditional marketing methods offering a better ROI and ROAS ( Return On Ad Spend).
2. Better Customer Experience
Digital marketing facilitates a better customer experience in a highly interactive manner. This drives enhanced customer relationship and customer satisfaction which helps increased customer retention & loyalty
Personalized offers precise targeting which generates a steady flow of targeted traffic that converts into sales and leads hence drives increased sales and revenue.
3. Increasing Reach
With increasing use of smartphones and mobile devices, digital marketing helps businesses target larger targeted audiences with laser sharp targeting strategies across cities, countries and worldwide that generates increased brand awareness, which in turn boost sales and higher revenue.
4. Versatility
The wide variety of digital marketing types, including organic traffic, paid ads, email marketing, content marketing, and social media posts offers a diverse mix of opportunities to reach out to a wide range of target audience aimed at converting them into customers.
5. Rich Media
Digital marketing strategies can be more engaging with customers with a powerful combination of variety of content types – images, videos and text which is not possible with traditional marketing.
5. Data Driven Marketing
Digital marketing lets you monitor and measure your marketing performance with precise analytics in real time compared to a traditional marketing system where one has no control of the marketing campaign in real time.
You can track the campaigns in real time to check which content is resonating with your target audience. These insights help to tweak the marketing efforts, to make them most effective, allowing you to refine and improve your marketing strategies, hence allowing brands and businesses to get more out of their marketing budget.
Conclusion
Digital Marketing helps boost marketing efforts and hence leads to enhanced brand awareness and increased sales and revenue. Grow Your Business Online With The Power Of Digital Marketing. To leverage the power of digital marketing please contact DigitalConTech and take your business to the next level.